Our Services
Serving San Bernardino County
Jim Appliance Repair offers outstanding repair services for all your appliances:

* Washer
* Driers
* Stove
* Oven
* Garbage Disposals
* Air Conditioners
* Dishwashers
* Microwave
* Trash Compactors
* Heaters
* Refrigerators
* Freezer
* Wine Coolers
* Kitchen Exhaust Fans
* Small Kitchen Appliances

For outstanding appliance repair call 909-355-2500 to schedule an appointment today!
About Us
Appliance Repair Rancho Cucamonga CA
When your refrigerator quits running or your washer starts leaking, you need the appliance repair experts at Jim Appliance Repair. Our technicians are well-versed in large appliance repair and small appliance repair services. You can have confidence knowing that our major appliance repair experts have exhaustive training and years of experience under their belt. We offer same day service for appointments before noon, and since we are always in your area, we don't charge travel time. For high-quality kitchen appliance repair service, such as trash compactor repairs, call on Jim Appliance Repair in Rancho Cucamonga, CA. You will not have to spend a chunk of change on excellent service!

Whether large appliances or small, we have the expertise necessary to repair them all! Yes, this includes washer and dryer repair and stove repair! Our thoroughly trained technicians are able to repair washers, dryers, stoves, refrigerators, dishwashers, air conditioners, microwaves, and more. We have the knowledge needed to work on all the major brands, such as Amana, Maytag, Whirlpool, Westinghouse, and Magic Chef, just to name a few. We always give an estimate prior to beginning any repairs and, in most cases, are able to complete the repairs in one visit. We at Jim Appliance Repair in Rancho Cucamonga, CA are known for our unmatched efforts in heating & cooling repair, kitchen exhaust fan repair and wine cooler repairs. We staff an excellent detail-driven team whose mission is to produce magnificent work. Whether you need washer repair, dryer repairs or a garbage disposal repair, depend on our specialists for fantastic service.

At Jim Appliance Repair we believe in the old-fashioned traditions of hard work and exceptional customer service. So, when we are carrying out your dishwasher repairs or refrigerator repairs, we are handling it with complete care. We stand behind our work and will always have your best interests at heart. We believe the customer is always right and will do what it takes to make sure your appliance repair is completed to your satisfaction.

We will be happy to address any questions you have concerning our microwave repairs or oven repairs!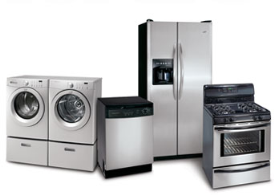 Appliance Repair Rancho Cucamonga CA
---
Payment Methods
Mastercard, VISA, Discover, Cash, American Express, Checking Account